Recover Deleted Files from SD Card – Yes, sometimes even we will have a bad day in one or the other way. One type of bad day is sometimes we forget to copy our data and delete all the files from the SD Card and we feel bad about it. Many users think that we couldn't able to recover the data which we lost by deleting the data from SD card but it is not true. We can retrieve the data from the SD Card which you have deleted, unfortunately. If you are ready to get back all your data then you need to follow the instructions mentioned in this article.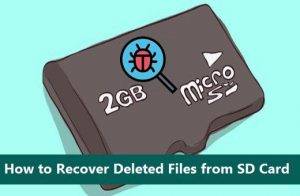 How to Recover Deleted Files from SD Card
For this process to go ahead, you need to use the third-party application as you need to download the application and then you need to follow some steps involved in it.
Yes, download and install Disk Drill Application or a Software on your device and then you need to start the process.
Remember that deleting the files from SD Card doesn't mean that your data is lost from SD Card. But the data couldn't be seen by you on the SD Card.
Disk Drill will help you to find the data which you ave deleted.
Now open the Disk Drill Software and then you can see the option to coose from which drive or card you need to recover your data.
Choose the destination folder from your system and then click on the Data Recover option.
Disk Drill will check for all the data on your device and the bring back to the required folder immediately.
So after all the process by Disk Drill, you will get back your data if you delete all the files from your SD Card or from any USB card from your device.