How to Save Webpage as PDF– Many users want the web pages to save to other device but they take the picture or else they take a screenshot. But by doing this you cannot get the complete web page right? So if you want a complete web page at a glance then you need to download the web page in any of the format available and if you choose to download in PDF format then that would that would be easy for you to take a print. You can convert the web page to PDF on any browsers like Google Chrome, Firefox, Internet Explorer, and also from any other search engines. So to do so you need to have a PDF creator which works as a virtual PDF converter.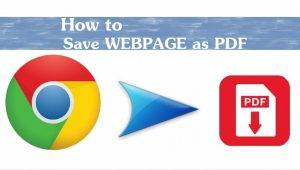 How to Save a Web Page to PDF on Google Chrome
Google Chrome is the most used browser all over the world because of its features and easy to search anything. Google Chrome gives you the instant results and you will get the exact search you need. So now visit the web page you want to convert it to PDF.
As you visit the web page you want to download it in PDF format, click on the custom search menu to edit the google chrome settings which is beside the search box.
Now you can see the Print option to print the whole web page to your Windows PC/laptop.
As you click on Print, you can see a new window with the preview of the web page you want to download as PDF.
In this window, you can see an option to print the page as Destination. Under Destination, click on Change option and then you can see Local Destination options like Save As PDF.
Click on it and the whole web page will convert it into PDF format.
Now click on Save option which is in the blue color. So as you click, your Web page will be saved in PDF format on your Windows PC/laptop.