How to Force Shutdown iPhone – As the technology has increased and we get any type of application to use and complete our work. And also we do most of the work on our mobile devices as you can order food, book a cab, buy any product easily. As we download mobile applications on our device and start using it for one or the other purpose but definitely we use the application on our device. Many mobile users also download games and start playing. There are many gaming applications wic as more graphics involved in it and the gamers do not compromise to download their best game on their mobile device. But if we download and start using all the applications on our mobile devices sometimes it gets stuck for a while as our mobile RAM do not support much space to install the applications. So it is better to use only those applications which are necessary to you. Even if your mobile gets stuck and you need to force shutdown your mobile phone then you can follow the steps mentioned below. This article helps you to Force Shutdown your iPhone device easily.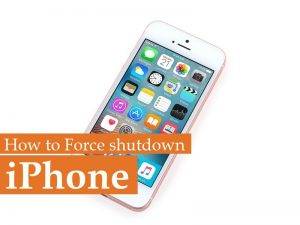 How to Force Shutdown iPhone Device:
Many times you may face this kind of issues on your iPhone because you use such an applications which cause this kind of issue. Mainly you use high-end graphics gaming applications on your mobile device then your mobile device will definitely get stuck immediately while playing the game. But if your mobile RAM is much as required then you can download any gaming application which supports your mobile device easily from the store and then you can start playing on your mobile device. So let us get into the topic that How to Force Shutdown iPhone device.
Remember that you need to use the buttons available on outer part of your iPhone device.
You can see On and Off button at the top of your iPhone and Volume Button at the left side of your iPhone and the home button at the bottom of the iPhone.
Now old down the On/Off button which is at the top of your iPhone for 3 seconds until the red slider appears on the device screen.
Now with the help of your finger slide the arrow to the right side to turn off your mobile device.
Wait for 10 seconds and then you need to hold the On/Off button until your screen gets on.
Else reset your iPhone device if the device doesn't support power-off procedure. old On/Off button and home button at the same time.
Hold until the Apple Logo appears on your iPhone screen. As you see Apple Logo it reboots your mobile device and then you will get back your data immediately.
So, this is the simple procedure to force shutdown your iPhone device if it gets stuck while you are using your mobile device.