Block a Phone Number on iPhone – Yes, you need to add the contact to the block list if the person makes you irritate every day. If you do not know the steps to block the number on your iPhone then you can read the complete guide from this article.
How to Block a Phone Number on iPhone – Free Guide
So first, you need to choose the mobile number which you want to block from your contact list and you can also unblock the mobile number if you want. If you have saved the mobile number on your Phones Contacts then follow these steps.
Tap on the Settings App on your iPhone and then you can see Pone option. Tap on it.
Under Pone coose Call Blocking and Identification.
Under Blockin and Identification, coose Block Contact. As you tap on the Block Contact, you can see a list of all contacts on your mobile device.
Now enter the name or the mobile number which you have saved on your iPhone.
Tap on the Number and then you will be asked to tap on block number.
Tap on Ok.
Mobile Number which you have chosen will be added to the Block List. If the person tries to contact then they couldn't able to reach you.
If you did not save the contact then you can follow these steps
Open the Phone App and ten Recent.
Tap on the mobile number wic you want to block and then you can see the blue "i" symbol. Tap on it.
You can see Block This Caller option. Tap on it. As you tap you can see a message like You will not receive phone calls, messages, or FaceTime from the people on the block list.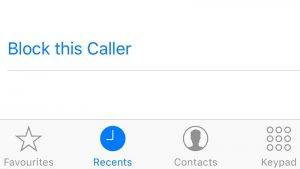 You can see options like Cancel or Block Contact.
Click on Block Contact.
Now open the Block List on your iPhone and then you can see the mobile number wic you ave blocked