Connect iPhone Bluetooth to Car – In this modern era, what not is happening. You can use the technology as much as you can and you can implement all the smart ideas on the gadgets you use. Same like connecting your mobile phone to your Bluetooth speaker, connection your mobile device to earphones and much more. Bluetooth technology has made an easy way to connect two devices and you can do whatever it can support. So today in this article am going to share something interesting about the Bluetooth technology and this can be implemented. This article will explain you about how to Connect your iPhone to Car via Bluetooth.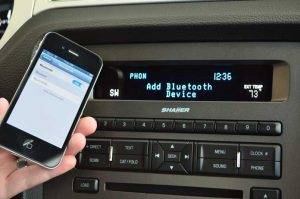 Yes, you can connect your iPhone device to Car via Bluetooth if your car as an inbuilt option called Bluetooth. You can connect your iPhone to the car and then listen to Songs, Videos, and you can also make a call and listen to the call. Is it interesting right? So why to wait, read the process to connect your iPhone to Car via Bluetooth and enjoy all the day while driving.
How to Connect iPhone Bluetooth to Car – A Complete Guide
Make sure that your iPhone and Car as a Bluetooth option. If you do not know then check before you try to connect. In iPhone you can see by going to settings and in Car, you can see the Bluetooth Symbol on the speaker manager you use.
First, Turn on the Bluetooth on your Car.
Now take your iPhone and then go to settings.
In settings, you can see Bluetooth option. Tap on it. You can see a toggle to Turn On your Bluetooth on your iPhone.
As you Turn On, your device will search for the Bluetooth devices available near you.
Tap on your Car Bluetooth Name and then start pairing.
You can see Connected below the Name of your cars Bluetooth if you are connected successfully.
Now play the songs which you like and you can manage the playlist from your mobile phone itself.