How to Wipe a Mac – Remember that you need to wipe your Mac OS if you ever think about to sell your Laptop or PC. Wiping your Mac means removing all the data completely from your device like data, files, applications, and all the settings. So if you wish to do it by following this article then read the complete tutorial. Remember that there are different steps to wipe the data in OS X 10.7 or later and OS X 10.6 or earlier.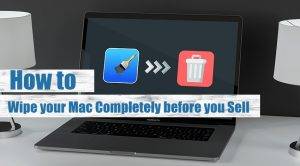 Steps to Wipe your Mac OS X 10.7 or Later
Here are the complete steps to Wipe your Mac OS X. Follow the step by step process on your Mac device.
Make sure that you have backed up all your data which you want.
Now Click on the Apple Menu which is at the top left corner of the desktop.
Under Apple Menu, Click Restart. You will get a confirmation to restart your Mac device.
After it shut down, Press and hold Command Key + R key. Release the keys when you see Apple logo.
It loads and then displays the macOS Utilities Windows. Choose Disk Utility and Click Continue.
Choose your Mac hard drive and then you can see options like Erase, Restore, First Aid, and RAID.
Click on Erase and you can see two options like Format & Name fields.
Under Format, choose Mac OS Extended (Journaled) and under name choose the name of the disk.
Now click on Erase option which you can see at the right bottom of the window.
So these are the simple steps to wipe your Mac device and if you have a Mac 10.6 or earlier version you need to follow the same steps but you need to press and hold only Command key when your Mac Shutdowns. So as you click on Erase, it will remove all the data, files, applications, and also the Operating System you use.