Delete Tinder Account – More often many people started using dating application and websites to find the best match in their life. You can see many applications like OkCupid, Tinder, Hinge and mcu more applications are available locally to date anyone online. So to use these dating applications you need to provide your personal information and then you can find the interesting person for you. You can chat, share images, videos and you can also meet them personally if you wish. These applications may be useful or sometimes there may be fake people which may blackmail you. So you should be careful while you use any dating application.
If you find your best partner in your life and then if you wish to delete your Tinder Datin Application Account which is no more use. You can follow the steps mentioned below and then delete your Account personally.
How to Delete Tinder Account on Mobile
You can delete your Tinder Account from your Mobile Application as you need to follow the instructions mentioned below.
First, open the Tinder Application on your Android Device. As you tap on the Tinder App Icon, you can see the main page of the interface.
Login using your Username and Password and then you can see your Tinder Account Profile.
Tap on your Profile Icon and then you can see edition options. Tap on Settings.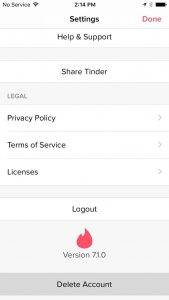 Scroll down as you can see Delete Option. Tap on the Delete Account and then you can see Delete My Account link.
You will be asked to enter the reason behind to delete your Tinder Account.
Options like I need a break from Tinder or I Met Someone or else Skip this step.
You can also mention any other reason by clicking on Other labels. If you have any personal reason then you can enter the reason in the Other Text Field.
Click on Submit & Delete Account and ten if you want to submit any feedback then you can enter in the text field and close it. Now you have successfully deleted your Tinder Account on your Mobile Application.