Volkswagen VW Tiguan GTE concept revealed at International Auto show
Volkswagen Tiguan GTE concept revealed at International Auto show, Looking to belatedly renovate its SUV lineup in North America, Volkswagen is bringing the VW Tiguan GTE Active Concept to this week's 2016 North American International Auto Show in Detroit. Based on the all-new Tiguan (due to arrive in the United States for 2017), its name doesn't exactly give it away, so let me break it down for you: It's a plug-in hybrid, all-wheel-drive crossover SUV with two electric motors and a gasoline engine. Oh, and it just happens to be off-road capable.With Volkswagen presently mired in Dieselgate (including recent news that they are being sued by the Justice Department and the Environmental Protection Agency), it's no wonder the German automaker is happy to be pushing cleaner technology. If the Volkswagen Tiguan GTE ever goes into production, Volkswagen will have another clean vehicle to add to its showrooms alongside the e-Golf and Jetta Hybrid.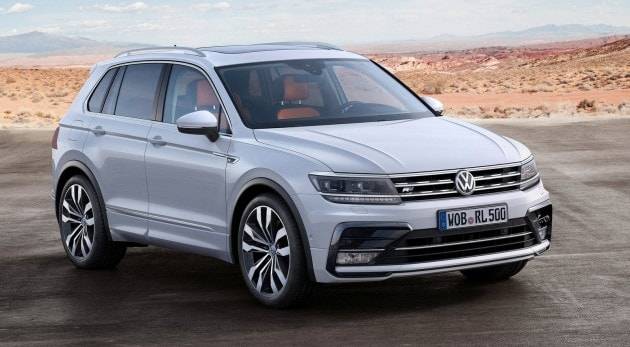 VW Tiguan GTE also has a long-term plan to shower the US in crossovers, and hopes to bring at least two new or redesigned models to the US by 2019. It's none too soon, as VW sales have been steadily declining in the US despite the red-hot market.
In particular, crossover SUV sales have been a major growth area in the industry, and VW has been caught out with two aging models.
The  VW Tiguan GTE's turbocharged TSI four cylinder is good for 148 horsepower and 184 pound-feet of torque, while its electric motors produce 54 horsepower at the front wheels and 114 at the rear, for a total system power of 221 German horses. VW Tiguan GTE claims 60 mph comes in 6.4 seconds en route to a top speed of 120 mph. A six-speed dual-clutch transmission puts that power to the pavement.
The first model to be built on Volkswagen's Modular Transverse Matrix platform, the Tiguan has a rather long 105.6-inch wheelbase. Overall, the SUV takes up 176.9 inches of space lengthwise with a width of 74.8 inches. Roof height is 69.5 inches. That's a bit shorter than the Mazda CX-5, and 3 inches taller than the Ford Escape, both of which figure to be key rivals.
The VW Tiguan GTE starts every trip in rear-wheel drive, all-electric mode, where it can cover 20 miles at speeds of up to 70 mph with the front electric motor and gasoline engine decoupled from the drivetrain to reduce drag and save energy. 4MOTION all-wheel drive can be engaged manually by the driver or automatically by a loss of traction.
The Volkswagen Tiguan GTE uses a combination of the gasoline engine and electric motors depending on the charge of the battery. If the battery isn't sufficiently charged, the gasoline engine starts and the front electric motor acts as a generator for the rear electric motor. With a full battery capacity of 12.4kWh and a 16.9 gallon fuel tank, the expected range is impressive at 580 miles in VW Tiguan GTE.
The VW Tiguan GTE Active Concept features six drive modes: On-Road, Off-Road, Sport, Snow, Charge and Hold. Off-Road mode covers everything from rocks to sand to gravel, while Charge replenishes the battery while driving. Hold maintains the battery at a constant charge.
The Volkswagen Tiguan GTE can also coast when the battery is fully charged, shutting down the drivetrain when the accelerator is released. When the battery is not sufficiently charged and the accelerator is released, the gasoline engine is shut off and the energy generated under braking is fed into the battery.
Follow on Facebook: Technews