The new Ford Endeavour 2019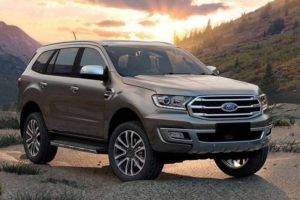 The new Ford Endeavour 2019 gets a stylish body structure and lavish interiors that make the occupant feel awesome. The model has replaced various old components while retaining a few good ones and even the engine has been changed.  Ford Endeavour carries the philosophy of quintessential American SUV, so, here are the 5 things in the car that makes it different from other SUVs.Ford Endeavour the much-awaited next-gen SUV in the country. The vehicle has been launched just before the AutoSpace event and gained the much-needed impetus from the car enthusiasts all over the country.
The new Sports Utility Vehicle is loaded with various advanced and fresh features that make it the first choice to opt for amongst many other vehicles in the same segment.
Ford has introduced the 2019 New Ford Endeavour , for a starting price of Rs28.19 Lakh . The new Endeavour now gets a base variant housing a 2.2-litre diesel motor with a manual gearsystem in India.
The power to take you there and beyond. With 200PS (147kW) power, our 3.2l TDCi diesel engine is the driving force behind the New Ford Endeavour's mighty pickup for hill climb. At the same time, its impressive fuel economy helps you save money.
The 2016 Endeavour gets the amazing segment first Terrain Management System, it is an advanced feature which allows the driver to choose different driving modes. For this, user has to select tarmac that one is travelling on, to change the car's driving characteristics. The various modes available with the Ford  are Mud, Rock, Sand and Snow.
New Ford Endeavour gets the  new " Parallel Park Assist "feature which is  helpful for the driver while searching for a space to park the vehicle. The user just has to press the button and the car will automatically analyse the parking spot and after that, driver has to just manage the accelerator as well as the brake and the vehicle will make its way into the space on its own.
The car is ready to take on any adventure. The New Ford Endeavour lets you take complete control, irrespective of the terrain. Whether it's sand, snow/mud or rock, you can confidently tackle any track, trail or mountain.
Coming to its comfort features, Endeavour gets all new things as compared to its older version.No matter how tough it looks on the outside, the 7-seater New Ford Endeavour is all about comfort and leisure on the inside with leather upholstery and an Electric Panoramic Sunroof.
In a nutshell, The New Ford Endeavour gives an authentic experience of comfort and style.